Hello parents, how is everyone today? I hope that everyone had a lovely Easter break with lots of love.  Today I've an exercise that helps the little ones develop their awareness abilities, improving their mind to body connection. It`s super easy, just pop on some relaxing music and have the children lie on their backs on the floor. All you have to do is read the following, and of course you don't have to stick with these instructions, get creative and say what feels natural for you in the moment! Let's begin!
Tense and let go
Close your eyes and take a big breath into your nose on the count of 3

Hold that for 2 seconds, count in your head

Let the air out through your mouth with a loud AHHHHHHHHH

Squeeze your toes on your right foot, as tight as you can

Hold it for 5 seconds and notice how it feels then let go

Let all your toes relax now

Now we will make a strong fist with our left hand, squeezing it as tight as possible for 5 seconds

Can you feel how tight your hand fees? Does your arms also fee strong?

Let go, relax all your fingers and feel how nice that feels to completely let go and relax

Can you notice how different it feels when we tense and let go?

Take a big breath in through the nose on the count of 3, hold for 2 seconds and let all the air out with a loud AHHHHHHH

Open your eyes and sit back up
This exercise is all about comparing and contrasting between tension and relaxation. Through this comparing, the little ones can learn to identify when they feel tense in real life situations, and let it go. Helping them become their own little self-efficient relaxation guru!
Hi there, Ella and I have been inspired by nature during our walks to make some bird nest cakes. Have a go yourselves!
Ingredients:
225g plain chocolate, broken into pieces
2 tbsp honey
50g butter
75g cornflakes
Mini egg sweets for decoration (chocolate, marzipan etc)


Method:
Line a 12 hole muffin tin with cake cases

Melt the chocolate, honey and butter in a bowl set over a saucepan of simmering water
(do NOT allow the water to boil!)
Stir the mixture until smooth

A grown up should remove the bowl from the pan (careful HOT)

Gently stir in the cornflkes, until coated with the chocolate mixture

Divide the mixture between the cake cases

 Press 2 of the mini egg sweets into the centre of each nest

Chill in the fridge for 1-2 hours, until set

Enjoy!
Benefits of baking:
Learning to follow instructions

Hand-eye coordination

Math skills, weighing, measuring, reading numbers

Learning about personal hygiene – Don´t forget to wash hands!
Have fun!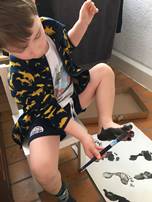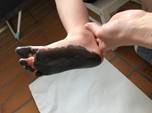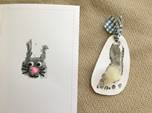 Wir hoffen Sie hatten alle schöne Osterfeiertage und der Osterhase ist trotz Coronavirus bei ihrem Kind/ Ihren Kindern vorbei gehoppelt!
Maximilian war fleißig und wir haben an unseren Kalenderblättern weitergearbeitet. Für April haben wir einen Fußabdruck gemacht und von der kleinen Schwester einen Fuß und Handabdruck- Hasengesicht.
Für den Fußabdruck benötigt man außer der Farbe ein kleines Stück Stoff und etwas Watte oder Schafswolle.
Viel Freude beim Gestalten!
Liebe Eltern,
Sollten Ihnen mal die Ideen ausgehen, haben wir hier ein paar Inputs, wie Sie Ihr Kind auch zu Hause für die Schule vorbereiten können (natürlich auf freiwilliger Basis)
Förderung der Selbstständigkeit im Alltag:
achten Sie bei Ihrem Kind auf die richtige Verwendung von Besteck und darauf, dass Ihr Kind     beim Essen sitzen bleibt bis alle fertig sind 

lassen Sie Ihr Kind sich alleine an- und ausziehen, Kind bereitet sich selber sein Gewand für     den nächsten Tag vor

lassen Sie Ihr Kind im Haushalt mithelfen (aufräumen, kochen, Wäsche zusammenlegen,     staubsaugen, Blumen gießen, Tisch decken,..)

üben Sie mit Ihrem Kind das Schuhe binden 
Ideen, um aufmerksames Zuhören, Konzentration, Merkfähigkeit, Ausdauer, Geduld,.. zu fördern:
-Verwenden Sie beliebige Gegenstände (LEGO Steine, Spielzeugautos,..). Ihr Kind soll nun versuchen, auf einen Blick die Anzahl zu erkennen und diese nennen. Verändern Sie die Anzahl, evtl. Tempo erhöhen (auf Schnelligkeit)

-Erzählen Sie Ihrem Kind ein Bilderbuch, danach wiederholen Sie gemeinsam mit Ihrem Kind     den Inhalt der Geschichte. Stellen Sie Ihrem Kind Fragen zum Inhalt (Bsp. "Hänsel und    Gretel"- Wie heißt der Bruder von Gretel? Womit legt Hänsel eine Spur, damit sie wieder     nach Hause finden? Wer lockt die Geschwister ins Pfefferkuchenhaus? Welche Farbe hat das    Kleid von Gretel?) 

lustige Reime/ Zungenbrecher lernen

Aufträge erteilen (Bsp.: Hole mir bitte 5 Stifte- 2 rote und 3 grüne/ Bringe mir bitte eine Schere, ein Blatt Papier und 3 verschiedenfarbige Stifte/…)

Formen in Räumen suchen lassen (Zeige/ Bringe mir 3 Gegenstände in der Form eines Quadrats/ Kreises/ Dreiecks/..

Basteln/ Falten/ Puzzle bauen- darauf achten, dass die Aktivität zu Ende gebracht wird  

Bild malen/ Foto ausdrucken, zerschneiden-> Puzzle (Bsp. 

Osterei)

Ausmalbilder- darauf achten, dass nicht rausgemalt wird

"I spy with my little eye" ..something that is round like a ball, has numbers from 1-12 on it and tells us the time. 

What is it? -> the clock  
 "Ich seh, ich seh was du nicht siehst und das ist…."rund wie ein Ball, hat Zahlen von 1 bis 12 darauf und sagt uns wie spät es ist. Was ist das? -> die Uhr! 
Werden Sie kreativ und erzählen Sie eine Malgeschichte (Bsp: "Es war einmal ein Mädchen, das hatte grüne Augen, eine kleine Nase, einen roten Mund und lange braune Haare. Es trug ein wunderschönes langes, gelbes Kleid mit grünen Punkten…… Es lebte in einem großen Haus mit 4 dunkelblauen Fenstern und einer braunen Tür. Das Haus war hellblau    gestrichen…")   Erzählen Sie die Geschichte langsam, während Ihr Kind das zeichnet was es hört.

Kleben Sie ein Klebeband auf den Boden (gerade oder in Wellenform), lassen Sie Ihr Kind darauf balancieren (Variation: Kind transportiert etwas ohne es fallen zu lassen)
Keep calm & play on…