Dear parents,
Have fun with our activities today…
Wir freuen uns auch über einen Besuch auf unseren Social Media Kanälen und das Teilen von Fotos (wie zum Beispiel euer Kuchen aussieht, ihr beim Experimentieren,.. etc.) zu unseren Beiträgen 😊. Facebook and Instagram: englishplayschool
Keep calm and play on…
#strongertogether …. Stay healthy !!!
---
YOGA
Today let's get silly with our little ones. It´s just so important to still have a laugh and some fun during this time, and not be overwhelmed by the current health situation.
You can make this exercise as long or short as you want. Turn off the news and put some of your favourite music on! Today we are going to preform partner poses with our little ones.
Have fun trying to get into some of the partner poses
Make it a challenge with the whole family
Get into pairs
Choose the poses for the other pairs
Time each other, who can hold it the longest?
Parents v children
Mummy and daughter v father and son
Be free to make your own challenges out of these wonderful partner poses
What partner poses can I do with the children you may be thinking, well I got you covered! The next page includes pictures of some great partner poses which the children already know, so they are kind of the experts here. Please also check out Lesley's great video on kids partner poses with the following link. https://www.youtube.com/watch?v=iBcZ2GdgB98
Believe me when I say partner poses for so beneficial for the children, they are not only fun but have the potential to develop trust, teamwork, leadership and intimacy. The kids love these exercises in kindergarten and love it when you make the process into friendly competition.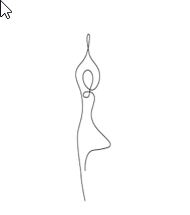 Love
Sarah Louise
---
Hope everyone is well. Ella and I had a baking session yesterday. Maybe you want to try out our recipes.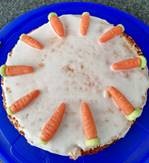 Carrot cake
You need: 4 large carrots, 6 medium eggs, 250g sugar, 1 packet baking powder, 1 packet vanilla pudding powder, 2 packets ground almonds (400 grams)
To decorate: 25g icing sugar to dust or 150g icing sugar mixed with water to make glace icing (see picture) 100g marzipan, food colouring (orange and green)
Heat the oven 180 °C
Grease cake tin (26 cm)
Peel and grate carrots
Mix eggs and sugar
Add baking powder and vanilla pudding – mix well
Add almonds – a little at a time
Add carrots and fold in with a wooden spoon
Pour the mixture into cake tin
Bake in the middle of the oven for 55 minutes
Allow the cake to cool on a wire rack
Mix ¾ of marzipan with orange food colouring and form into small carrots
Mix the rest of marzipan with green food colouring and form into tiny balls. Press them gently and place them on top of your carrots.
Either dust the cake with icing sugar or make glace icing to cover the cakes surface.
Add the carrots
Enjoy with a cup of tea!
Bunny Biscuits
You need: 200g flour, ¼ tsp salt, 100g butter, 100g sugar, 1 egg yolk
To decorate: Chocolate, Smarties, mini marshmallows, sprinkles etc….
Heat the oven 180°C
Mix the butter until soft
Add the sugar – beat until light and fluffy
Beat in the egg yolk
Fold in the flour first with a knife and then with your fingers
Knead the dough on a floured surface
Roll out and cut shapes using cookie cutters
Prepare on a baking sheet covered with baking paper
Bake for 12-15 minutes
Leave to stand for 5 minutes then cool on a wire rack
Melt the chocolate
Dip in the biscuits (careful Chocolate id HOT!!!)
(maybe the adults should do the dipping)
Decorate with mini marshmallows, Smarties etc….
Enjoy!
That's it for now……keep calm and play on!
Your Playschool Team