Dear Parents,
Heute gibt's Part 2 unserer Happy News Edition…
Feel free to try out new things and experiment with your children.
Keep calm and play on…
Yesterday was ´baby bath 'day at our house! I was then inspired to think about other water play ideas for you and your children to enjoy at home. And as we don´t spend time right now commuting to work, we have a little extra time maybe to focus on practising some new skills with our children. Read on for new ideas and inspiration and remember…keep calm and play on!
Baby bath day
Ella and I filled a bowl with water and used soap, a flannel and towel for washing her dolly.
Provide sponges, brushes for more variety
Add some bubble bath for extra fun.
REMEMBER: Never leave your child unattended when playing with water.
Hand washing game
Set up a hand washing station, perhaps in the bathroom.
You need a bowl, hand soap, hand towel (or flannel), nail brush and hand-cream.
Washing up game
Set up a bowl, a range of brushes, a sponge and a tea towel for drying.
Collect some suitable toys and use the different brushes and sponge to ´clean the toys`.
Add some washing up liquid for extra fun!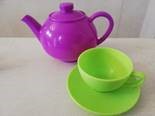 Suitable toys for the washing up game.
Practising new skills
Brushing teeth
Washing hands
Brushing hair
Zipping up jackets
Using a knife and folk
Tying shoelaces and …spreading butter on bread
the list is endless!
Hope you are inspired by our activities, have a good day and a good play!
————————————————————————————————————————————————————————————–
This special time that we all are experiencing is calling us to withdraw inward, and this is a beautiful opportunity for you and your little ones. An opportunity to slow down, pause and take some personal inventory. Sit, breath, stretch and notice how does your body feel, do you need to stretch more, maybe you simply need to rest more. Everyone will have different needs. Teaching our little ones, the importance of pausing just to breath and stretch, it's really as simple as that.
Today let's get some balance! Let's be tall trees! You only need 5 mins for this but it can be made longer and more challenging.
Let's start!
Stand in tree pose,
Have the kids show you their tree pose as they love to show theirs off
Then you show yours.
Now let's make it into a competition! Kids v Mum/Dad
At the same time lift right food into inner thigh, hands in prayer position
Who can hold it the longest? Parents I warn you here, the kids are amazing with tree pose and, well…..good luck
Lift left leg and the same again! And by the way it's so normal to have one side that is more balance then the other
Make it into a team challenge! Get the whole family involved.
Teams of trees! Parents v children! Which team can hold their balance longer?
You can keep the hands in prayer position at the heart of lift them up above your head if you would like more of a challenge
Have a giggle!!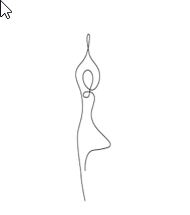 Have a beautiful day, and have fun with this simple balance game. When I Play it with the children, they love it! They love to be competitive and when they are
in teams of trees, I watch them become little leaders and team players. Exercising their teamwork and leadership skills which is so beneficial for their social development.
Love
Sarah Louise
---
EXPERIMENT
Washing hands – the right way!
Rub hand cream into your hands.
Add some glitter!
The glitter symbolises viruses and bacteria.
Shake hands with each other and watch how the glitter transfers.
Touch a toy, the door handle or your face.
Now rub soap into your hands.
Wash your hands the right way! Do this together with your children and maybe sing a song whilst washing your hands! (approx . 30 secs)
As an alternative to glitter you could use herbs.
Youcould also experiment to see if hands can be cleaned without using soap!
Alternativ könnt ihr statt dem Glitzer ein feines Gewürz verwenden.
Ihr könnt auch gerne einen Zwischenschritt einbauen und die Hände OHNE Seife waschen und sehen, ob die Hände auch wirklich sauber werden.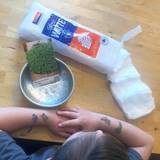 Kresse anbauen!
Die Kinder dürfen sich um das tägliche Gießen kümmern und können das Wachstum beobachten. Schmeckt gut auf dem Butterbrot und bringt frischen Frühlingsduft in die Küche!
KEEP CALM & PLAY ON…..
Your Playschool Team